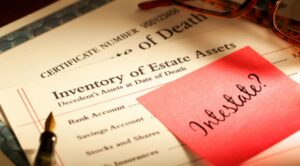 While most people know that a Last Will and Testament is an important legal document, as one of its primary purposes is to govern the disposition of a decedent's real and personal property, people often overlook the fact that their Will is where they have the opportunity to designate their Executor.
An Executor is the individual you designate to administer your estate upon your passing.  This individual becomes the trustee for all interested parties—the estate's beneficiaries as well as the estate's creditors—and owes a fiduciary duty to the beneficiaries.  It is an extremely important role with a lot of responsibility.
While no two estates are exactly the same, usually the Executor is responsible for probating the Will, ascertaining and marshalling estate assets, opening estate accounts, paying debts, filing tax returns, settling claims, obtaining tax waivers, selling real estate, liquidating assets, generating an accounting and issuing distributions to beneficiaries.  The aforementioned list is in no way comprehensive, but merely a general overview of the typical tasks and goals of an Executor.
Needless to say, serving as Executor can be a difficult and extremely time-consuming role.  Therefore, careful consideration should be taken when choosing an Executor.
When an individual dies without a Will, and therefore without designating an Executor, said individual is deemed to have died intestate.  In New Jersey, pursuant to N.J.S.A. 3B:10-2, the surviving spouse or domestic partner of the decedent is designated as the Administrator of an intestate estate.  While this designation sounds logical, not everyone's surviving spouse or domestic partner is capable or willing to serve as Administrator.  As previously mentioned, administering an estate requires communicating with and potentially visiting financial institutions; coordinating with creditors, real estate agents and legal departments; hiring accountants; and corresponding with various organizations.
In instances where the decedent does not have a surviving spouse or domestic partner, administration may be granted to an heir of the estate.  If none of the estate's heirs are willing or entitled to administer the estate, then the Superior Court or Surrogate's Court may grant letters of administration to any fit person applying for administration.  However, conflicts often arise over who is most suited to act as Administrator, particularly since the Administrator, just as the Executor, is statutorily entitled to be compensated for his/her services from the estate's assets.
Therefore, by executing a competently drafted Last Will and Testament, not only do you make arrangements for the disposition of your assets, you also designate the person that is capable of honoring your wishes and diligently administering your estate.
To schedule your free estate planning consultation, contact Yuliya V. Tedeschi by email or by phone at 732-349-1212.  Our Toms River law office is conveniently located near the Ocean County Courthouse.  
The information provided on this website does not, and is not intended to, constitute legal advice.  All information, content, and materials available on this site are for general informational purposes only.  Information on this website may not constitute the most up-to-date legal or other information.  Readers of this website should contact their attorney to obtain advice with respect to any particular legal matter.  Use of, and access to, this website or any of the links or resources contained within the site do not create an attorney-client relationship between the reader and website authors or the law firm.